Outreach Education
A significant part of NWTS' role is to provide a formal Outreach Education Programme for District General Hospital staff, within the region, involved in the care of the critically ill or injured child. We have committed to providing at least one session in each hospital per year. We aim to run outreach between April and October.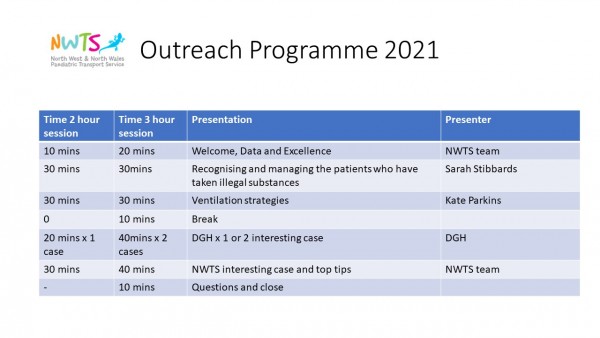 Who should attend outreach?
Outreach is open to all of the MDT. We welcome colleagues from Emergency Department, Paediatrics, Anaesthetics, and anywhere else that looks after Paediatric patients.
It is open to nurses, students, health care support workers, ODPs, consultants, medics, physiotherapists etc.
Typical Outreach Education
Review of Clinical Cases Presenting to your Hospital

Update on Aspects of Management of a Critically Ill or Injured Child

Simulation and Case-based Discussions