PCC Update Days 2022
The Paediatric Critical Care Update sessions are for anaesthetists, paediatricians, emergency medicine team ie doctors, nurses, and allied health professionals
We have planned the sessions to include something for everyone.

Please check this page for confirmation of dates.
NWTS will provide access to a recording of each session via the new education section of the website (www.nhseducation.nwts.nhs.uk)
The recordings will be available within a couple of weeks of the presentation going out live.

The main benefit of attending on the day is that there will be an interactive Q&A session at the end of each presentation – so hopefully any burning issues can be answered there & then.
All sessions will be 1 hour virtually via MS Teams. Links will be posted as the dates are confirmed.
Renal and Fluid Management - (Date TBC) ***November Date cancelled and to be rearranged asap***
To register for the event please complete the following form
To join the meeting follow the link below (please do not open the meeting prior to the date and time):
DKA: Challenges of new guidelines .... - Tuesday 19th July 2022 12-1pm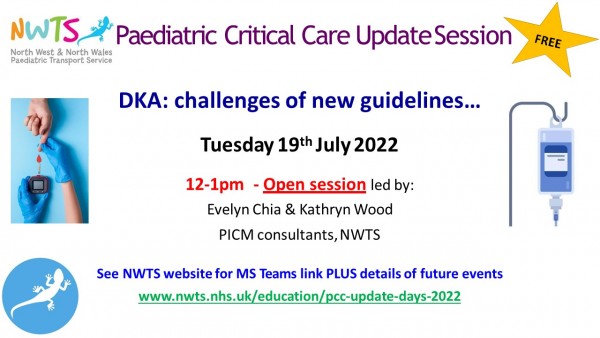 Palliative Care - August 17th 10 - 11am
Dr Suzie Holt and Dr Anna McNamara
Please do not click the link before the 17th August
Asthma - August 19th 12 - 1pm
Hepatitis/Liver Failure - September (Date TBC)